Apartment Dining Room Ideas In Carmel

There's more to an apartment dining room than just a simple spot to eat before dashing off to your bustling life. It's where you gather with family and friends, enjoying peaceful conversation or a joyful night of board games. Chances are you'll spend a lot of time there, so it's smart to decorate the room in a manner you and your visitors will find appealing.
If you're getting ready to relocate into a new community, use these apartment dining room ideas in Carmel to establish an appealing, practical space.
Integrate Some Style Into Your Dining Room
Your Carmel apartment dining room doesn't need to be uninteresting. There's no guideline that says your apartment dining room in Carmel must be mundane. In fact, inject a little panache and let it be reflective of your own taste. You are able to accomplish this by designing your own centerpiece or integrating inspired prints, paintings, or free-standing pieces. If you prefer something a bit more subtle, you can always go with attractive vases, plates, and placemats. Seats are another opportunity to show off your inclination for design by selecting cushions in your preferred colors and styles.
Here are a couple of other recommendations on designing your dining room:
Make certain that it integrates well with other areas, like your kitchen or adjacent living room. This is specifically important for open floor plans. If your kitchen features lighter or darker cabinetry, it's a good idea to reflect that in the hue of your dining table and other furnishings.
If you have an open floor plan, you are able to better define the space by using an area rug. This will provide a nice element of style while minimizing noise as chairs slide out.
Use Appropriate Furniture In Your Carmel Apartment Dining Room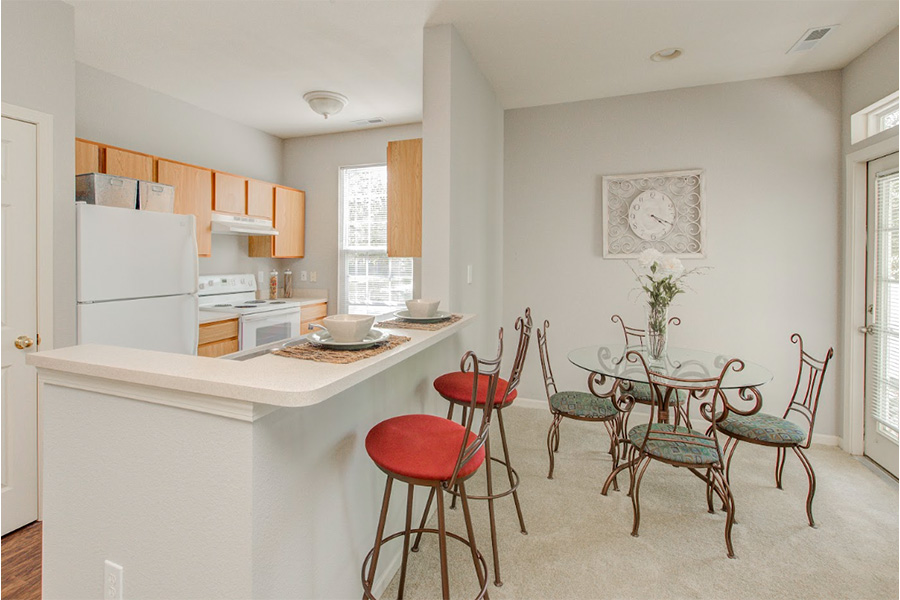 No matter if your apartment dining room is big or small, it's crucial to use furnishings that are suitable for your space. Armchairs and bulky china cabinets can make the space seem confined. On the other hand, pieces like rounded or oval tables are space smart. They're less obstructive, and you can mix in an additional chair when necessary. If you have a rectangular table, bench seating you can set next to a wall is a sensible alternative. You could even try an L-shaped bench when floor area is truly at a premium.
You can also utilize these other suggestions for making the most of your space:
Adaptable furnishings like drop-leaf or extendable tables are a great option. You might also use a shelving unit or sideboard for additional storage.
A sizeable mirror will make the room look bigger.
In addition, don't lose sight of comfort when picking your chairs and tables. When you're two hours into that rollicking board game, you'll be glad your chairs have some padding.
Customize Your New Apartment Dining Room At Midtown Flats
Put those new apartment dining room ideas to useIntegrate your new apartment dining room ideasNow that you have some fantastic apartment dining room ideas, put them to use at Midtown Flats! Our inspired apartments in Carmel can be found in several different floor plans to match your distinctive style. You'll also find a nice assortment of amenities to elevate your lifestyle. Schedule a tour today to glimpse what we can provide, or simply give us a call at 317-597-4596.